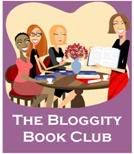 I wanted to think of some really catchy title for this, but it just escapes me. Here we are at the first installment of The Bloggity Book Club. I hope everyone was able to get the book finished and enjoyed reading it. But even if you aren't quite done or didn't like it, please feel free to leave your comments and link to your post anyway. I won't throw eggs at your blog if you 'dis on Beth. (Because really, it would just mess my screen up anyway, and you wouldn't know.) So, without further ado....
...what
did
I think about Beth Moore's new book,
Get Out of that Pit
? I'll admit I was pretty distracted at first. So much so that I wasn't sure I was going to be able to relate to this book at all. However, about the third chapter, all I could do was look up from inside the many faceted pit I seem to reside.
What I like about Beth (You don't mind if I call her Beth do you? As if we're best friends or something.) is that she's been there, done that. She's not at all preachy. Instead she's practical. Not only does she let you know how to recognize if you are in a pit, but how to get out. I've already started working on her "Cry Out, Confess, Consent" method. We'll see how they turn out in real life. She is good to note that not all deliverance from a pit is instantaneous. More often it takes time; God's time.


I tend to be very indecisive, or wishy washy if you must. I think deep down I knew so much of what she was saying. I have been to that point of crying out, but had never made up my mind to be utterly loyal to the One who is utterly loyal to me. (Ch. 8) The minute I felt the pressure let up, and small tug out of the mud and mire, I stopped looking up. I forgot who had done the tugging in the first place and that I still had a long way to go. It doesn't take long to sink back in the same ole' stuff.



I usually feel so overwhelmed after a book like this. I feel like I need to "fix" everything I don't like about myself right this instant. But Beth is very reassuring about it not being all about me or all up to me. "The most self-disciplined among us may walk in victory for a few weeks out of our need to do the right thing, but it will rarely carry us to the finish line. Each of us will ultimately do what we want to do."



In other words, I'm not a complete loser. I just can't do it on my own. Whew! I was starting to worry. =)

Now for those of you who have your very own post on Get Out of That Pit, please leave a comment and a link to your post about said book, not just a link to your blog, with Mr. Linky!