And since I do my best to obey The Word, I'm inviting you over to my place. After
Boomama
asked for a
list of suitable books to peruse
(and you gave her, I don't know, a gazillion or so to choose from)I commented that she should do an online book club of sorts. After all, I love book clubs, but rarely actually get to go.
Blah, blah, blah; e-mails back and forth; I'm hosting the first book club! And just so we all know, I am quite sure I will completely destroy Mr. Linky or the oh so adorable Book Club Button. So, bear with me--K? Below you will indeed see, very prayerfully as I hit "publish", the button.

(I'm the svelte short haired blond in the middle in case you were wondering. Well, except that I have red hair now. I don't care. I'm still her.)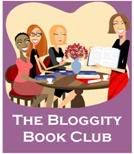 The plan is to meet back here on March 9th to discuss in any manner you see fit, our first book,
Get Out of That Pit

by Beth Moore
. I'm in a bit of Beth withdrawal after having finished the
Breaking Free
Bible Study about the time we moved to Oklahoma.
There you have it! It could very well just be Boomama and myself discussing the book. At which point I guess I will just call her and talk about it over the phone rather than just commenting back and forth on each other's blogs. Because that would just seem silly, right?
Everyone can bring their own snacks if that's okay. I would normally provide, but can't afford that FedEx bill. See ya next month. And for a more substantial post on the matter head to
Boo's
.